Product categories of 3D Planting Puzzle Toys, we are specialized manufacturers from China, 3D Planting Puzzle Toys, 3D Child Planting Puzzle suppliers/factory, wholesale high-quality products of Paper 3D Planting Puzzle Toys R & D and manufacturing, we have the perfect after-sales service and technical support. Look forward to your cooperation!
China 3D Planting Puzzle Toys Suppliers
From the moment you start to touch the Zilipoo 3D Puzzle parent-child park, you will feel it is so different:Unique innovation planting combined with 3D puzzle concept, so that the mechanical puzzle with more fresh vitality. Since then, parent-child interaction has a richer natural love. Moreover, let the children experience process of the natural life growth, cultivate the child a better emotional education and practical ability. But all of this, is just the beginning! The more you know about the 3D Puzzles, the more you will discover that innovation and love are everywhere.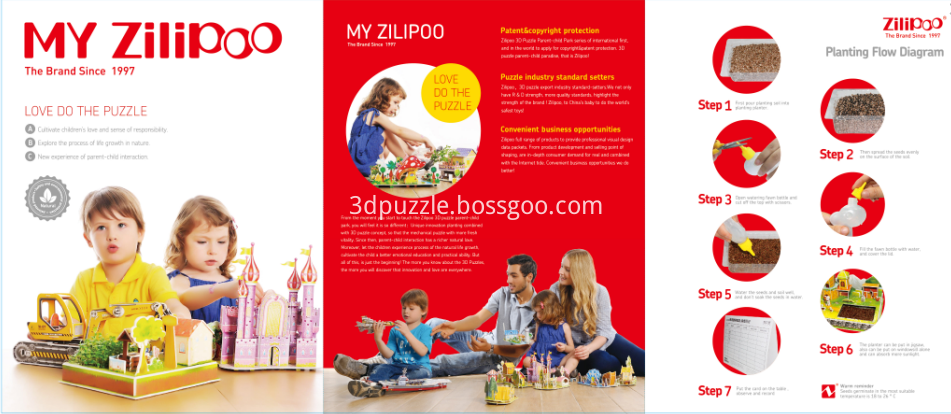 Lots of advantages of 3D Planting Puzzle Toys:
1.Patent copyright protection.
Zilipoo 3D Puzzle Parent-child Park series of international first, and in the world to apply for patent copyright protection. 3D puzzle parent-child paradise, that is Zilipoo!
2.Puzzle industry standard setters.
Zilipoo,3D puzzle export industry standard-setters.We not only have R & D strength, more quality standards, highlight the strength of the brand ! Zilipoo, to China's baby to do the world's safest toys!
3.Convenient business opportunities.
Zilipoo full range of products to provide professional visual design data packets. From product development and selling point of shaping, are in-depth consumer demand for real and combined with the Internet tide. Convenient business opportunities we do better!
......